Waterstone Wines
Overview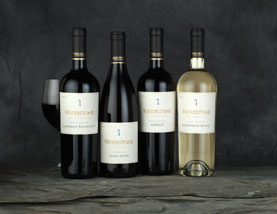 Waterstone selection of wines include a:
- Napa Valley Cabernet Sauvignon
- Napa Valley Cabernet Sauvignon Reserve
- Carneros Chardonnay
- Napa Valley Merlot
- Study in Blue, Napa Valley Red Wine
- Napa Valley In Studio Red

Sourcing grapes from the climatic zones that best suit their particular development is not revolutionary, but it is remarkably effective in producing balanced wines that are earnest expressions of both the grape and the land from which it comes. This sensical approach is Waterstone's hallmark. Our winemaking techniques are informed by this ideology; gentle handling of fruit, use of oak as appropriate, minimal filtration and fining and careful preservation of acidity are all indicative of the level of care exercised throughout.