Waterstone Winery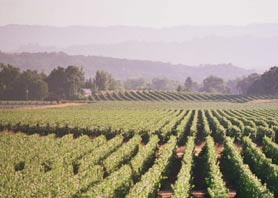 Our Story
In this time of multimillion-dollar vineyard estates and celebrity winemaking consultants, when it seems that financial backing has replaced skill as the key to success in enology, it is rare that a simple idea can give birth to wines that stand out for flavor and balance, rather than pedigree alone. A collaboration between veteran winemaker Philip Zorn and longtime wine executive Brent Shortridge, Waterstone Winery was formed in 2000 when the two men were introduced and discovered a shared interest in creating luxury wines at affordable prices. Bringing together their previously established relationships with Napa Valley growers and vintners, the pair set out to develop balanced wines of varietal character through intelligent sourcing. Preferring to focus on the wine itself rather than the accumulation of land and facilities, Zorn and Shortridge own no vineyards themselves, nor do they own the facility where their wines are made. Dedicated winemaking, strong relationships with top growers and long-term grape contracts are the keys to Waterstone's quality and success.
Winemaking Team
Philip Zorn
A respected winemaker with broad international experience, Philip Zorn brings a European perspective to the creation of Waterstone's Napa Valley wines. Born in the U.S. and raised in Germany, Zorn attended the nation's top school of enology and worked at noted producer Weingut Pieroth. After returning to the U.S. in 1984, he became winemaker at a number of top California wineries, including Sunny St. Helena, Gauer Estate, Paraiso Springs and Tria. Through this process Zorn gained a keen understanding of grape growing and winemaking in California and developed an intimate knowledge of the state's subregions, eventually settling in the Napa Valley and becoming a specialist in its particular viticultural properties.
Brent Shortridge
Brent Shortridge has extensive hands-on experience in virtually every aspect of the wine industry, from the cellar to the boardroom. With a biochemistry background and medical school in his sights, Shortridge had no intention of entering the wine business until a summer job at Sonoma's Buena Vista Winery changed his life. After working with legendary winemaker Andre Tchelistcheff, Shortridge knew that wine was his calling and stayed at Buena Vista, first as a chemist, then in exports and finance, eventually becoming the winery's vice president of marketing. After leaving Buena Vista, Shortridge immersed himself in the wine country community as marketing director for the Napa Valley Vintners Association. He has since worked with a number of industry associations, including Zinfandel Advocates and Producers (ZAP), and he currently chairs the international program at the Wine Institute.